I've started to scan photos of mom that begin to tell her story. This is one of the few photos I have of her without a horse in it.
Mom died at 72 years of age on December 8th, 2008. It was a sudden death, she died at home, and we did not expect it at all. In fact, she had a customer coming to look at a horse that was for sale that day. I don't quite know why she died that day. she had been to her cardiologist, Dr Bergen at UVA the week prior and got a good report. Perhaps she had a Cardiac dysrhythmia and died. The death certificate simply said cardiac arrest. As with most things it was a bit more complicated than that.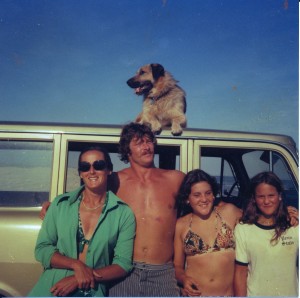 Mom, her brother Teddy, V-anne & Me at Jones Beach
This is my favorite picture of my mom. She looks so elegant and truly happy. She was beautiful. My Uncle Teddy has his dog Bear on the roof of his Bronco. V-anne is in the middle and I am on the right. We were at Jones Beach in Long Island, I'm not sure who took the picture.